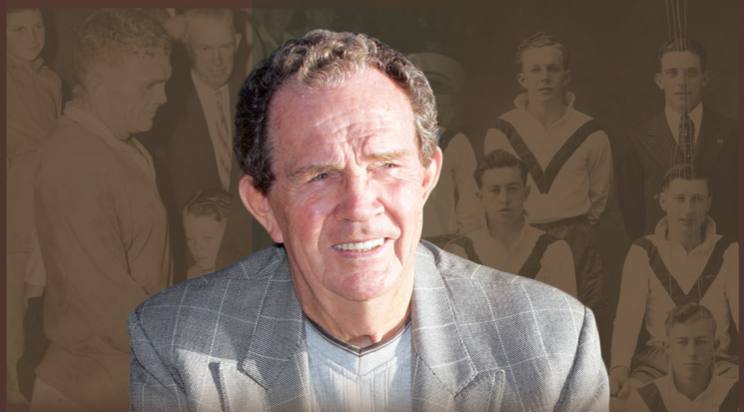 One More Walk Around the Block is a book to inspire … about one man's journey through the maze of life and an abiding passion for the sport of his choice – rugby league. As a young boy, Paul Broughton woke every morning and went to bed every night as a different St George player, just as kids do today.
Broughton played for and coached St George, beginning a remarkable career in which he played for (first grade player number 486) and coached Balmain; coached Newtown; developed coaching systems that became rugby league law. He was there when the NSW rugby league incorporated in 1984; he was in the bunkers when Super League broke out and he, as much as anyone, gave the Gold Coast an NRL team.
More than that, Broughton found understanding and empathy for the indigenous communities, grateful for his association with the Aboriginal activist, the late Dr Charles Perkins.
PAUL: "I had much to learn about the prejudiced attitudes that were the acceptable norms … I did not know it then but that experience was to influence me greatly in later life."
Broughton came to value the warmth and compassion of the gay community who supported him when his son Paull was dying of AIDS.
PAUL: "… the gay community were wonderful to me. There was then, and will always remain for me, a sense of gratitude for their compassion."
Through it all Broughton's love of rugby league carried him to places he never dreamed of. He touched numerous lives and became friends to many … Thomas Keneally, John Singleton, Ita Buttrose,
Roy Miller, Alan Jones, Roy Masters, John Quayle, Ken Arthurson and Wayne Bennett; and those passed away: Jack Gibson, Kevin Humphreys, Tom Bellew, Dennis Braybrook, Jack Faulkiner (LA Rams) and Johnny Warren among them.
The uniqueness that is Paul Broughton is revealed in this aptly titled book. One More Walk Around the Block is indeed a long, and rewarding, walk.
Paul Broughton is a man of many achievements.
• Played first grade with St George and Balmain
• Coached St George (third grade) and first grade at Balmain and Newtown
• Coached premierships in the CRL of NSW and NSWRL for over 15 years
• Helped start the National Coaching Scheme – completed coaching level IV
• Coached Sydney, NSW and Australian Youth teams for ten years
• Was the inaugural coaching director, coaching and development manager, special projects manager, finally operations manager of the NSWRL and ARL (NSW operations)
• Was founding CEO of the Gold Coast Chargers and
• Was founding Chairman of the Gold Coast NRL Titans
However, Paul's life has not been all about rugby league. He has been Past Chairman of the Australia China Foundation; Past Chairman of the Weighing Industry of Australia; Past Chairman of the Gold Coast NRL Bid; Director of Gold Cost Titans Community Foundation; Director of Nitto Australia Pty Ltd and Chairman of Sport Strategic Group Pty Ltd.
He has won a number of awards, and deservedly so, including Australian Sports Medal 2000; 2004 Gold Coast Honours award; 2006 Gold Coast Honours award (sport); 2006 Order of the Gold Coast; had the Paul Broughton Medal (Gold Coast Titans) named after him for the club's Player of the Year and was nominated as Australian of the Year in 2011.
Paul has also won the Eunice Gill National Award (for coach education) and is a life member of the University of New England Sports Union; life member of the NSWRL and a life member of the Australian Weighing Industry.
He is married to Bev and lives on the Gold Coast.

Extract from the book…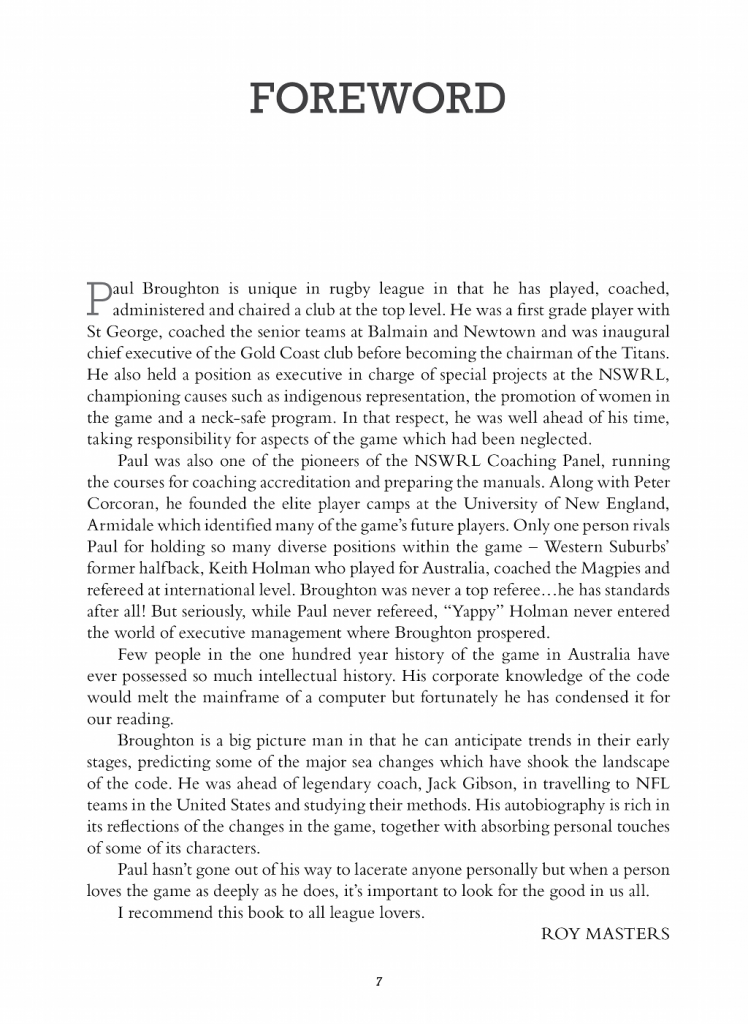 …To read the full story click here to purchase One More Walk Around the Block